Zoom on the optical illusion in art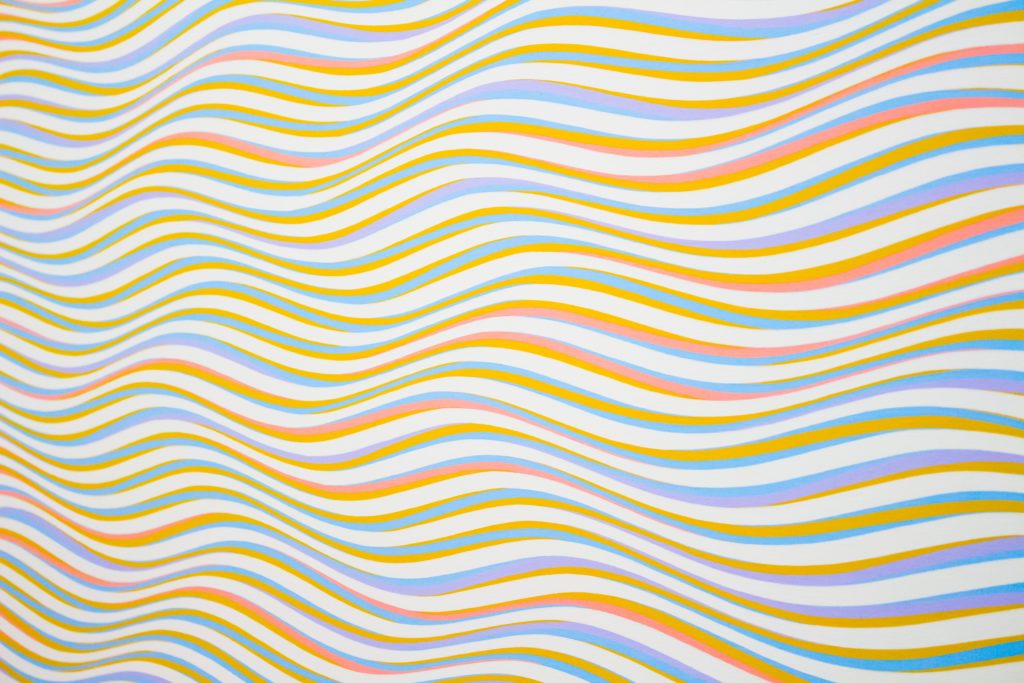 Optical art, also known as OP Art, is an expression used to describe certain artistic practices and research carried out from the middle of the 20th century onwards, which exploit the fallibility of the eye through illusions or optical games. More precisely, we have to go back to October 1964, in an article in Time Magazine describing this new style of art by the expression "Optical Art". This type of art refers to its composition of optical illusion and the feeling of movement felt by the human being due to its precise and mathematical composition.
Origins of optical illusion
The origins of Op Art go back to the visual theories developed by Kandinsky and other artists in the 1920s. At the Bauhaus, the art school founded in Germany in 1919 to explore a modern functional aesthetic, students of industrial design learned the principles of colour and tone in a structured way. How a colour is perceived depends on its context; for example, some colours 'vibrate' when applied against each other.
A recognised pioneer in optical art
Victor Vasarely was recognised as the pioneer of this movement with his painting "Zebra" in 1938. Born in Hungary in 1906, he was a key figure in the history of Op Art. He studied at the Bauhaus in Budapest, where technical progress was at the heart of all his work. Zebra'', painted in 1938, is one of his most famous paintings and embodies the Renaissance of abstract art: the painting consists entirely of black and white diagonal stripes twisted in such a way as to give a three-dimensional impression of a sitting zebra.
Characteristics of this art style
It is a pictorial style that uses optical illusions. The dominant elements of Optical Art are straight or sinuous parallel lines; strong contrasts, between black and white or coloured; changes in size or shape or the repetition of simple geometric figures. Op Art thus exists to deceive the eye. The compositions create a kind of visual tension in the viewer's mind. This gives the works the illusion of movement.
It goes without saying that Op Art is not meant to represent reality. Because of its geometric nature, Op Art is not representative; it is indeed an abstract art in which composition, movement and form dominate. A dominance that is not placed by chance. Indeed, the elements used in a work of optical art are carefully chosen to achieve maximum effect. For the illusion to work, each colour, line and shape must contribute to the overall composition. Finally, Op Art is based on two specific techniques: perspective and the juxtaposition of colours, chromatic or achromatic.
An ephemeral movement?
Following the great Op Art exhibition of 1965: "The Responsive Eye", the public was seduced by the movement. As a result, Op Art began to be seen everywhere: in print and television advertisements, on LP album covers, and as a fashion motif in clothing and interior design…
OP Art is therefore an art movement that is characterised by the illusion of movement. Although this style lasted only a few years, some artists continue to use optical art.
An art that has remained popular
Through the use of precision and mathematics, new artists are creating works with three-dimensional qualities not found in any other art style. The contemporary artist Bridget Riley has revolutionised this trend. She decided to move from achromatic to chromatic pieces.
Another more recent artist, Abdallah Mohammed, demonstrates the illusion of movement through a series of 6 works in 2018 entitled ''Symptoms of Migraine'', where the artist sought to recreate the feeling of dizziness that one experiences under the influence of a migraine.
For more artistic content, visit our streaming platform Museum TV