Hugs and kisses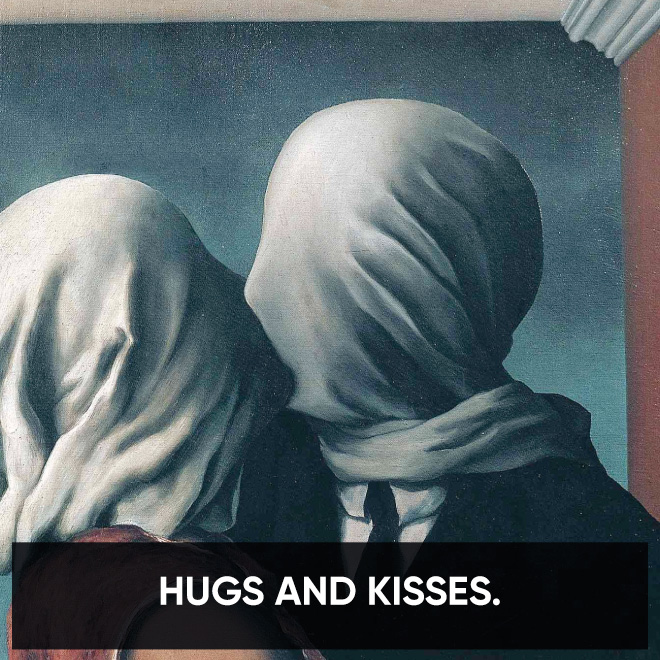 Happy Valentine's Day to lovers all over the world! #Coeurdebeurre #Meltingheart
Yes indeed! We're real romantics here on the editorial team. Even if our Valentine's night is likely to end up a solo affair, watching a series with a mug of tea in hand…
For this very special day, let's explore the depictions of kisses in painting. The Golden Age of love in art? Romanticism, of course!
No, floral shirts weren't always in fashion. No, people didn't always wear bandanas in their hair. And no, garish colours weren't always on point. In the 19th century, Romanticism was expressed through painting, literature, music, sculpture and even politics (perhaps political leaders had affairs even back then…).  The Romantic Movement was characterized by the expression of sentiment as opposed to reason, it allowed a form of escapism through dreams. The sensibility of the artists caught us up in a whirlwind of passion and melancholy. We're getting emotional already!
For Valentine's Day, we have decided to put you in the mood for love with our selection, in chronological order, of the best kisses in the history of painting:
This painting is the epitome of libertinism.
Francesca da Rimini is represented here with her lover, her husband's brother. When the husband discovers their relationship, he stabs them to death, while they exchange a tender kiss.
Our eyes are already starting to well up here at MUSEUM
This example of Italian Romanticism was the inspiration for the 'Baci' box of chocolates, created by the Perugia chocolate manufacturer.
 A reworking of the drawing Adieu, adieu, un baiser et je vais descendre, produced by Dicksee for the cover of a special edition of Romeo and Juliette. No need to tell you what happens in the end…
In his paintings, Toulmouche (we promised! No jokes about his funny name) makes full use of his imagination to seduce and entertain the viewer. But what would you have chosen: the young man or the basket of fruit?
In a tender kiss, two prostitutes share a moment of love.
Does love make us blind? In this canvas by Munch, the couple merge together into a single entity.
Forget about a bouquet of flowers, this canvas is covered in leaves of gold.
As we all know: love gives us wings! In this work, the painter represents himself reunited with his young love, Bella.
Do we need to see each other to fall in love? Does one have to live hidden away in order to be happy? We look forward to your response.
This artwork was sold for 575,000 dollars (a little under 418,000 euros). If you still don't know who Bansky is, read our article.